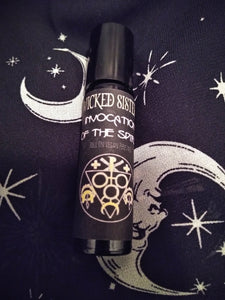 Invocation Of The Spirit - Roll On Vegan Perfume (UNISEX)
Regular price $12.00 $6.00 Sale
Invoke any spirit with this fall pumpkin spice spicy fragrance..contains creamy vanilla, cinnamon, whipped cream & a splash of pumpkin..Drys down to a spicy sensual  scent. Can be worn by either sex. This scent will quickly become a favorite!
It's a devilish addition to your fragrance wardrobe. 
Wishing it was Fall Already?! Us too! This is why we are pre launching our first ever UNISEX Fall Vegan Roll On Perfumes.
We have created the most seductive blends yet that can be worn by both sexes!
Handcrafted in New Orleans, Louisiana 
100% Vegan & Organic
How to use: Roll on pulse points. All fragrances can also be layered to create your own perfumed signature potion or worn alone.
Perfume oil is infused with real dried flower petals,herbs and blended with natural nourishing essential oils. They all smell divine & scents last all day while you cast your spell without the harmful ingredients used in some perfumes that can irritate the skin.
Net Wt 13ml
Packaged in a glass bottle with a screw on secured top & has an easy to use roller ball for applying on your pulse points.