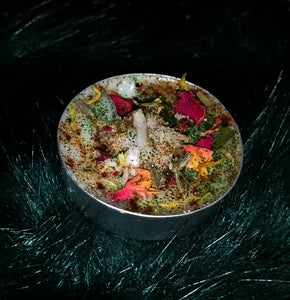 Wealth Success & Good Fortune - Magic Tea Light Candle (set of 4) - by Haus Of Witches
Magic Teal Light Candles are handmade with intentions and infused with alluring & calming essential oils, herbs,dried botanicals and sprinkled with glitter witch dust.
They come in a simple silver tea light casing. Therefore you will need to light these in a glass votive or ceramic plate.
Please note: Candles should never be left unattended. Please keep out of reach of children & pets. Candles should be lit in an open area of a home with no wind or obstructions above or next to anything that is considered flammable. 
The Wealth Success & Good Fortune Magical Tea Light Candle is a very promising and potent candle for receiving positive outcomes & energy in all around life circumstances, For example: A promotion at work, or if you own a business more business, if you are looking for a job, several offers maybe attracted. If it's money you seek there maybe an unexpected money fall . This candle is so powerful it will attract  all the Wealth Success & Good Fortune that is meant for you.
Again please be careful what your intentions are.
This tealight candle comes dressed with dried roses & green glitter & fragrance 
Handmade in the USA (therefore no two candles will be the same)
 All our candles are vegan and chemical free
*DIsclaimer: Wicked Sisters Cosmetics and it's sister company Haus of Witches are not responsible or liable for actions by purchaser and the intentions on these candles they will put forth. Furthermore, it is not a guarantee that these candles will work with intentions that are not meant to be.